11 ways to be a green fundraiser
Julie Whelan Capell |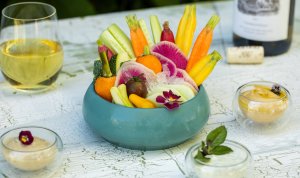 To celebrate Earth Day on April 22nd, I was given the challenge of thinking about how to make fundraising more earth-friendly.
At first, I wasn't sure I could come up with even one idea. Then I did some research and asked some of my trusted development colleagues, who shared a bunch of green fundraising practices that I am excited to share with you.
Special events
Send digital invitations only.
Work with a caterer who doesn't use single-use plasticware. If washable china plates and metal utensils aren't possible, insist on biodegradable alternatives.
Eliminate centerpieces, or make them out of recycled/second-hand items. Even better, make the centerpiece out of consumables like cut fruit or cupcakes so there's nothing left when the event is over.
Ditch the swag bag. Even items like pens, lip balm and water bottles are not sustainable and often end up in the trash. Instead, consider making an all-digital swag bag stuffed with promos from event sponsors.
Compost any food waste and arrange for all leftover food to be donated to a local food pantry.
Annual giving campaign
Move to online solicitation only. In fall 2021, a paper shortage forced one of my clients to do this and they raised more money than ever before!
When a donor becomes a monthly supporter, ask if they want to opt out of receiving appeals via the US Postal Service.
Ditto for your monthly newsletter. If you're worried about leaving out older donors or others for whom digital access is a challenge, give your donors control over how they'd prefer to receive communication from you.
Stop printing and mailing an annual report (for more reasons why this is a good idea, see my post 4 things fundraisers should stop doing)
Travel
Let your development staff work from home several days a week. According to the EPA, eliminating the drive to work just two days per week helps reduce air pollution (not to mention the stress of traffic, the cost of gas, etc.)
How about cutting way back on the number of face-to-face donor visits you do? The pandemic has shown us many donors actually prefer meeting online. With gas prices soaring, staying in the office will help both your pocketbook and the planet.
What are some things you have done to make your own fundraising practices more environmentally friendly? Send us an email and let us know so we can add your ideas to our list!