How can a fun workplace culture benefit your organization?
Sara Wilson, CPCC, ACC |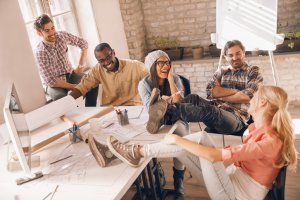 What's the workplace culture like at your organization? How do you feel about your work? Are you enthusiastic? Filled with dread? Bored?
Many of us spend more time at work than almost any other activity in our lives, yet there is often little or no fun in our work. You can change that, really!
Questions to ask in-person and virtual teams
Here are four questions to ask your team about fun in the workplace, including the virtual work space:
What does a positive work culture mean to you?
What does fun at work mean to you?
Given our current work situation, what conditions can make it possible for us to have fun at work as we are working remotely or in a hybrid model?
What are your ideas for fun for our workplace?
As a leader you have a role in creating and supporting a fun, positive organization culture, starting with your own mindset. If you embrace a fun outlook, that will help your employees shift their own mindsets.
Benefits of a fun workplace culture
Embracing fun at work can have many benefits. Studies show that "fun" and "play" at work are becoming more important to employees, especially younger employees. A study by BrightHR (2015) found that employees who have fun at work are less likely to take sick days and more likely to report feeling creative at work and committed to their organization. In another study, the University of Warwick measured the impact of happiness on employee productivity. The study found a 12% spike in productivity among happy workers and a 10% drop among unhappy workers.
I am very fortunate; I love being a coach and consultant and I work with great people who are making a powerful impact in our world. I get to have fun every day…well, almost every day. In fact, the entire MWA team has fun doing what we do. If you want to work with experts who deliver excellent service and have fun while doing it, call us. We'd love to work with you and we are here to help.
"People rarely succeed unless they have fun in what they are doing." — Dale Carnegie