How to not dread your mid-year goal review
Sara Wilson, CPCC, ACC |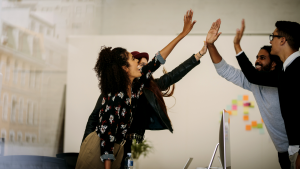 Who likes a celebration? Me too! So, lets talk about your mid-year goal review.
Surprised you, didn't I? Were you expecting something on events, a party, appreciating your employees? I'm actually going to talk about all of that.
Goals are a reason to celebrate and show appreciation. It's really easy to get lost in the drudgery of "reporting out" because we are constantly measuring and being measured. Every nonprofit board or staff member I know is working hard (mostly), long hours (always) for not a lot of money (future discussion).
To help change that mindset, here are THREE easy steps to planning your Mid-Year Celebration of Accomplishments:
1. Schedule the Mid-Year Check in Celebration
2. Create the Celebration Agenda
Ask people to identify 1-2 goals they are most proud of accomplishing.
Ask individuals to tell the story of an experience with a client, program delivery where they saw the mission at work.
Ask individuals to identify what they are excited about working on for the next 6 months.
Send 7 days prior to meeting.
3. Planning: Lets make this a party!
Have the partyer (you ALL know who it is) on your staff plan the theme (tropical, carnival, ice cream social). Give them a small budget to purchase décor.
Have food! Theme-aligned is a plus but not a requirement.
Get outside. Every town has a park where you can meet.
Encourage creativity: team members work together; reports done in haikus; create a story board. Importantly, let people know just giving their answers is also totally fine.
Expert Tip for All Leaders: Your agenda also includes sharing a "proud moment" about each staff member.
Mid-year goal check in need not be dreaded, ever again.
Next is the end of year High-Five We Did It Year End Celebration. Let's "KISS" (keep it super simple) and use the same format.