Yes, you should be sending videos to your donors
Julie Whelan Capell |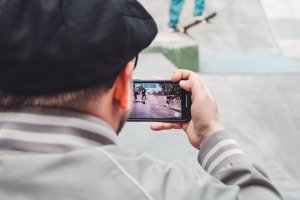 Donor newsletters and texts are SO last year. Our email inboxes are overflowing. Our texts are full of emojis we don't understand. But send a video to your donor's phone or email and you'll definitely get their attention.
What I'm talking about are short videos–under one minute–that you capture using your cell phone camera. Just point at something going on in your organization, click the video button, say a few words about what you are filming, MENTION THE DONOR BY NAME, end the video, and send it.
Program staff, development staff, volunteers, board chairs, executive directors–anyone could easily make 10 of these in one hour.
What to capture on your video
Video something "behind-the-scenes" at your organization. People love feeling like they are getting an insider view
Sit behind your desk and record yourself talking directly to the donor
Walk around your organization and voice your thoughts "on-the-fly"
Capture your executive director or board chair after a meeting and film them
Record supporters at a special event; ask them to say in a sentence why they support your organization
Video clients participating in events and activities
What to say while you're filming
ALWAYS mention the donor by name (you ARE sending this to one SPECIFIC donor, right?)
"I was just walking through our preserve and I thought of you. Your donation is keeping this land conserved for all this wildlife . . .and people"
"I wanted you to be among the first to know that our ___ program has just provided services to our 1000th child in need; newest land purchase has been completed."
"Happy birthday!"
"Everyone is so excited, we got a new gift from XYZ Foundation today."
"Just thought you'd like to see how much the kids enjoy using the equipment your donation provided to our youth sports program."
Things to avoid
If yours is a youth-serving nonprofit, you'll have to be careful not to capture any children under age 18 without getting a video release form signed by their parents. Many organizations cover this by having all parents sign a release form when the child signs up or becomes a member of your organization; check to see if this is the case before filming minors.
Even adults should be consulted before you use them in a donor video. Be aware of issues of power imbalance between donors and clients; don't showcase clients as victims. They are people affected by unjust systems and they are helping to come up with solutions.
And remember to be sensitive to your donors' preferences; if they opt out of texts then be sure to honor that desire.
Don't make your video for everyone. Always have a specific donor in mind, or at least a particular donor segment. Repeat donors? Board members? New supporters? Be specific.
Should you use a video production service?
High production values are generally not needed or desired in this situation. Your supporters do not want to see you spending their donations on a slick videographer.
However, if you are a larger nonprofit and you want to send video messages frequently to a large number of donors, there are services popping up in cyberspace that promise to help you for a monthly fee. ThankView, CauseVid, Bonjoro, Gratavid, and VideoAsk are some of the ones I'm aware of.
If you're interested in this new way to connect with donors and need help getting started, give us a call!